Details

Category: Developer News
Happy November folks! How time flies, we have about less than 2 months left in 2017. This weekend, our team has put together maintenance updates for EasyBlog, EasySocial, Mobile web template and Echo template.
Read more https://stackideas.com/blog/easysocial-and-easyblog-updates
Details

Category: Developer News
At Ionic, we're always looking for ways to enable developers to build amazing apps faster and easier than ever before. Today we're announcing something totally new to bring a significant improvement to your mobile development workflow: Ionic DevApp.
DevApp is a 100% free mobile app for iOS and Android that makes it easy to test apps directly on your devices. DevApp offers a realtime view of changes as you're making them, with a rich library of pre-installed native plugins to test every feature of your app.
It's basically ionic serve with native support, running on all your devices.
Check it out:
The Problem with Local Testing Today
One of the biggest challenges of testing apps in development is the time and effort it takes to setup and maintain your development environment. In order to see your app running on a device, you need to have all of the native dependencies installed (XCode, Android Studio, Cordova, etc) and properly configure your phone or tablet. That's one reason Ionic developers have come to love the ionic serve command: run "ionic serve" from the CLI and your app instantly appears in the browser.
But we know that browser testing – with all its speed, simplicity, and convenience – isn't the same as seeing your app on an actual device. Not only do you miss how your app looks on a phone or tablet, you don't have access to all the native features to see the full functionality of your app.
A Better Way to Test Apps in Development
We built DevApp to solve this problem. Ionic DevApp brings the rapid development experience of the web browser to native apps to provide one of the fastest mobile development experiences out there. That means:
LiveReload to see changes as you're making them. DevApp allows you to see your changes immediately on any devices running DevApp, as soon as you make them in-code.
No native dependencies. Viewing your app on a device requires nothing but the "ionic serve" command. There are no native dependencies like Xcode or Android Studio, and no need to set up profiles on your devices.
Preinstalled native plugins. A rich library of the most common Cordova plugins come preinstalled with DevApp, allowing you to test the full native functionality of your app.
iOS and Android support. DevApp runs on any current Android or iOS device. You can view your apps and test changes simultaneously across phones and tablets. It also allows anyone to develop on an iOS device from a Windows machine.
Auto-discovery of apps running locally. DevApp connects to your WiFi network and automatically scans and listens for the "ionic serve" command in order to load and display apps that you want to test.
Getting Started with DevApp
1) First, make sure you have the latest version of the Ionic CLI by running npm install -g ionic.
2) Install the the Ionic DevApp. DevApp is available for Android here on the Play Store and for iOS on the App Store.
3) Connect your device and your development computer to the same WiFi network.
4) Open up DevApp on your device.
5) Run ionic serve on your computer to serve your app. You should then see the app you are serving pop up on the DevApp.
6) Click on your app and boom, you now have a development version of your app running on your device complete with LiveReload and cordova plugin support.
What about Ionic View?
Ionic View will continue to be the official way to share your app with others. In fact, we have recently pushed a big update to Ionic View that you can read more about here.
To better cover the local development use case that a lot of developers were using Ionic View for, we decided to split Ionic View into two apps: Ionic DevApp for local development and Ionic View for sharing your app with others.
Thanks
The whole Ionic team has been using the new DevApp for our own internal development, and it's been a hit. In fact, we used DevApp to develop DevApp!. We're confident you're going to love it, too.
The DevApp is really new, and we'd love your feedback. If you have any thoughts or run into any issues while using the app, please share it with us on the Feedback Mega thread on the Ionic Forum.
Read more https://blog.ionic.io/announcing-ionic-devapp/
Details

Category: Developer News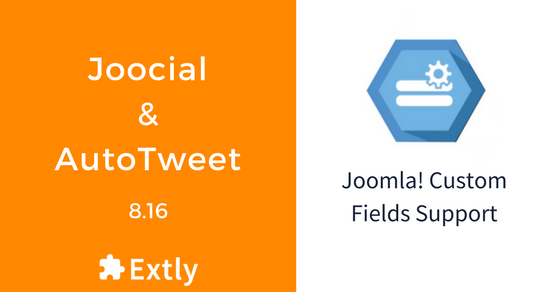 Joomla! has recently introduced a powerful new feature, Custom Fields. Now, it is possible to create articles and extended them with a rich set of fields. By default, Joomla! comes with these field types: Calendar, Checkboxes, Color, Editor, Integer, List, List of Images, Media, Radio, Sql, Text, Textarea, Url, User and Usergroup. On top of this, more field types can be installed and they are readily available on Joomla! extension directory.
To support this new ecosystem of functionality, we have augmented the integration of AutoTweet Free, PRO, and Joocial (8.16). The default content plugin, that processes Joomla! Content Articles, is now able to include the original text fields and/or the new custom fields. In the plugin configuration, we have added a new Post Template where a full message can be shaped to reach the site target.

To sum up, now, the basic component of Joomla! raises the bar of the content definition and becomes a complete Content Construction Kit (CCK). This feature is virtually a game changer and our social media management extensions (AutoTweet Free, PRO, and Joocial v8.16) are ready to accept the challenge.
To test the new functionality, version 8.16 is already available in the Beta channel and the stable version is going to be released in the next week.
To the moon!
Read more https://www.extly.com/blog/22-latest-news/704-custom-fields-are-supported-now-in-autotweet-free-pro-and-joocial-8-16.html
Details

Category: Developer News
Today, the team has put together maintenance update for EasySocial, EasyArticles and ConverseKit which addresses several teething issues and also updated it's integration with EasySocial. Read on to learn more.
Read more https://stackideas.com/blog/maintenance-releases
Details

Category: Developer News
The Ionic team had an incredibly busy and productive summer and rolled into a very productive fall. We released some new projects, soft launched our new Ionic Pro commercial offering, and are growing the team to make Ionic Framework and our services around it better and better.
With all the movement lately, I want to take a step back and talk about what the next ~6-12 months looks like for everything Ionic.
To start, let's address specific short term things you can expect:
Next 30-60 days
Ionic iOS 11/iPhone X
The iPhone X is rolling out in November and iOS 11 has been here for a month or so. We rolled out releases of Ionic for Angular (3.x) and Ionic for AngularJS (1.x) recently to ensure compatibility.
For those still using Ionic for AngularJS, this is our first release in a long time. Make sure to update to properly target the new safe regions on the iPhone X, as well as referring to our last blog post about iOS 11.
Make sure you have the latest releases of Ionic for Angular and Ionic for AngularJS to be ready for X and iOS 11:
Ionic for Angular (3.x): 3.7.1
Ionic for AngularJS (1.x): 1.3.4 (upgrade instructions)
Read more about getting ready for iOS 11 from the blog.
WKWebView is the default for new apps
We recently updated the default Web View on iOS to WKWebView for all new apps.
WKWebView brings significant performance and functionality improvements to iOS compared to the classic UIWebView. Scroll events are better, making infinite/virtual scroll faster and more fluid, JavaScript execution is much faster, and there are more APIs available to web developers.
For existing apps, we recommend trying it out and seeing if it improves your apps. We are confident it will.
However, there are some things you'll need to keep in mind when using it. Read our post on WKWebView for more info.
Ionic Pro Updates
Ionic Pro is our new platform for making Ionic development faster and easier than ever before. Pro automatically tracks runtime errors (even back to your TypeScript!), makes it possible to ship updates without going through app store submission, (soon) will have PWA hosting, and more. (Learn more about Pro)
For those that have stumbled on Ionic Pro and given it a try, thanks for being early customers and for sharing your feedback. Expect rapid evolution of Pro as we iterate quickly on it and start to hire to staff the team. The early reception has been really positive despite some rough edges and the team has many improvements planned to help take your Ionic development to the next level.
We're actively working on a few major features, including Progressive Web App hosting, which will roll out to everyone on Pro once it's ready.
Ionic DevApp and Ionic View
A few months ago we talked about the Ionic View app evolving into two apps: the new Ionic View focused on beta and external testing, and Ionic DevApp focusing on local development.
We took a look at Ionic View, and while the app was popular, users were either trying to use it as a local development aid, or using it for external testing. It wasn't amazing at either.
What we've done since then is move the tester use case into the new Ionic View. With that we've added a number of features to make it easy to share builds of your app with a lot of external testers and clients, including doing A/B testing and sharing different versions to different people. We've also added a ton of new native plugins to it. We are confident it'll be a major part of your beta testing strategy going forward and that you'll find it much easier to use than TestFlight or similar tools. We also fixed a few issues with the app in the last week or so, if you tried it earlier Oct/late Sept give it another try!
We've then taken the local development use case and made it 100 times better in the (soon to launch) Ionic DevApp. Instead of doing a server upload just to test in the app, the DevApp works by discovering your ionic serve instance and loading your app seamlessly over the network. It also supports live reload!
I think DevApp will be a major boon to Ionic devs' workflow, as it removes the need to deal with any Cordova or Native SDK toolchain to build out a large portion of your app. Stay tuned for the official DevApp release in a few weeks!
Ionic for Enterprise
We're expanding our work with enterprise companies that use Ionic today. Are you interested in getting expert help and expanded Ionic features in an enterprise setting? Please get in touch.
Next 3-6 months
Ionic 4
We've been working hard on the next generation of Ionic that will see us moving a large portion of our components to standardized Web Components built with a new tool we've created to build fast web components: Stencil.
Ionic 4 is significant for a few reasons, but primarily because it's the first release of Ionic that will be framework agnostic.
For those that were with us since the beginning, Ionic was always meant to be first and foremost a web-based component library. Unfortunately, there was no "native" way to ship a library of custom HTML tags back in 2013, so we picked AngularJS because it was the best way to offer a library of custom tags that users could use without having to manually scaffold or initialize components. The Angular community ended up being a great place for Ionic and we are thankful for all the support and help from the community and the Angular team itself helping us get to this point.
With Web Components now natively supported in 2017 in Chrome and Safari (and iOS!) and other browsers catching up or working really well with polyfills, we feel the time is right to go back to the original dream and open up Ionic's components for every web developer, no matter what stack they use.
Does this mean we're leaving Angular? No way! We think Angular is great and our goal is to keep ionic-angular very similar from an API standpoint. This isn't another one-to-two situation. Instead, the Ionic component tags used today in your Angular apps will end up running web components instead of Angular code, which should make ionic-angular smaller and reduce loading time.
For those that love Ionic but want to use it with Vue, or React, or Ember, or jQuery, or plain JavaScript, you'll be able to once Ionic 4 releases. In fact, we're confident that you'll be able to use Ionic 4 components in AngularJS (1.x), which should provide a path way into the future for developers still on Ionic/AngularJS 1!
Beyond supporting new frameworks (or none at all), Ionic 4 will have some significant performance increases for Progressive Web Apps, primarily due to "Using the Platform" (i.e. shipping less code and using native browser component features), along with some new lazy loading strategies we've added into Stencil.
We hope that, by moving to web components, we'll be able to help end Framework Churn once and for all.
Cordova Plugin Initiative
We are hiring to build out a Cordova Plugin support initiative. We know that the Cordova plugin ecosystem is both one of the best yet most challenging aspect of Ionic/Cordova development. Many plugins exist to interface with a plethora of native features, but many are not maintained or updated quickly enough. We want to throw more of our resources behind helping these plugins improve, as well as offering businesses some premium plugins we've built ourselves, and support for those plugins.
Progressive Web Apps
It's no secret that we are big fans of Progressive Web Apps (PWAs), the term for a modern web app that uses new APIs to provide an app-like experience for users.
There's a lot of confusion around PWAs. Does this mean Cordova doesn't need to exist? Is Ionic dropping support for app store apps? Will PWAs replace native apps?
While some in the web community do see PWAs as a long term replacement for native apps, we don't see it that way at Ionic. We think everything depends on the context your users find your app from. Are your users coming heavily from google search or web links? A PWA can greet them with a quality experience instead of risking pushing them to download an app in the app store. Are users finding your app in the app store or through other apps? A native app might make more sense. It also might make sense if your app requires native functionality not available on the web yet. Does your app have the ability to provide a nice, simple web experience and then expand with lots of native APIs when installed from the app store? You might find that having both a PWA and a native app makes sense!
Always Bet on the Web
With major advances in Web APIs, dramatic successes with mobile web apps, and ever faster and more capable devices, we feel validated that betting on the web was the right strategy.
We want Ionic to be a UI layer for wherever the web runs. We see native apps (app store apps) as a majorly important platform for Ionic, but we also think it's amazing that Ionic devs can target the web through Progressive Web Apps with the same code. Additionally, Ionic apps run in Electron and as responsive web sites.
We're proud to be 100% focused on open web standards and web technology, even when it wasn't the cool thing to do.
Going forward, we will continue to push this practical approach: target the web, wherever it runs.
Always Bet on the Web!
Cheers,
Max
Read more https://blog.ionic.io/ionic-2017-18-roadmap/