Details

Category: JConnect News
With Quick2Cart[1] on your Joomla ecommerce site, your users will have an out of the box online shopping experience. Quick2Cart 2.6 is a very special release since we have at least one thing for all of them; the Admin, the Store owner, Buyer and not to forget the Developers. Let's have a look...
What's new?
Pay with Amazon Integration
Handling stuff like payment gateways, shipping providers etc. has always been a pain. Now let off this pain, since the entire checkout process and post checkout will also be handled by amazon. Let people buy a product on your store and let Amazon handle the checkout part including shipping etc. How's that? :D
Note: As of now this Features is for "Pay with Amazon India" and will work only for single vendor

Common SMS API integration for Joomla
Developers can rejoice, as we are introducing an Api using which they can use to implement SMS integration for Joomla extensions.
SMS integration for Quick2cart
Store owners can relax, as the buyer will be kept updated about the status of his order with an SMS on his registered cell phone number. SMS integration for Quick2Cart will work with SMS providers like clickatell, SMS Horizon.
Change ordering of the products
Admin will now be able to change the ordering of the products easily by just dragging a product and dropping it in the sequence which he wants.

Apply Coupon code for Modules and Cart
Earlier, Apply coupon code field used to be displayed only at the last step of the checkout process. With this new addition users will be able to apply coupon code in the cart and also in a module.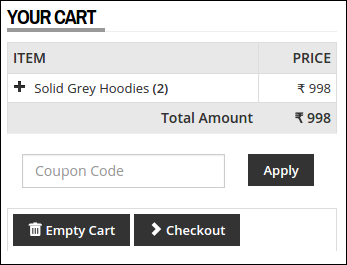 New Setting for emails
Admin will have the control over the system emails sent through Quick2Cart.

Now compatible with Joomla 3.5x and PHP 7
What are you waiting for? Start your Online Shopping portal with Quick2Cart now!
Read more https://techjoomla.com/blog/quick2cart/quick2cart-2-6-out-now
Details

Category: JConnect News
The 2 months since the release of Shika 1.0 have been an amazing time. Thank you everyone that has supported Shika either as Early Adopters or through words of encouragement via the comments, forum posts and Social channels.
We had published a Roadmap for version 1.1[1] of Shika on 22nd March. However, there have been some changes in the feature list and hence the schedule of this release. In this blog I'll take you through what's coming.
Parallel Release Tracks
Since the release of version 1.0x we now have separate teams working on parallel release tracks as below.
Maintenance Track
The version 1.0X series for maintenance bug fix & micro feature releases
Shika Next Track
The primary objective of this team is the next major version with new features as well as versions after that. Right now 80% focus is on Shika 1.1 while we have some work happening on version 1.2.
Why the roadmap change in Shika 1.1?
The main change that happened in the Shika 1.1 release was due to some changes in the planned JTicketing[2] Architecture. As you might already know, Shika 1.1 introduces Blended learning by allowing you to create courses with 'Events as lessons'. In addition to allowing offline events, the plan was to also allow Online events via Webinars.
Initially we were hooking up the Webinar provider (Adobe connect in 1.1 extendable to others via plugins) directly to a JTicketing event. However, we decided down the road that we need to bring in 'Venues' as a functionality in JTicketing and the Venue could be online or offline. This work is more than 50% done now and you will see some exciting new things in JTicketing 1.8 which are required for Shika 1.1 to have a lot of these functionalities.
While this was happening, some great merge requests from our service team that were developed for some Consulting work were ready for merging giving the 1.1 release some more punch!
So whats really coming in Shika 1.1?
The earlier roadmap more or less stays intact. We are just adding a 'few' more things ;)
Awesome new Enhancements to Quizzes
A lot of our users had asked for the ability to randomise Questions in a Quiz as well as the answer options. Both of these will now be supported. However we have a bigger surprise for you.
In a lot of 'Proctored Exam' or serious test scenarios you do not want to give the same question paper to candidates sitting in the same room giving the exam. So here we have introduced a new feature where you can define a set of rules to create a 'Question Pool' from the question bank and Automatically create quizzes from the same when the user starts the Quiz. You can choose to do this with a limited number of sets (more efficient) or unlimited sets (more differenciation).
Feature #75606: Auto generated Quizzes
Feature #78133: Question Shuffle
Feature #78138: Answer shuffle
Blended Learning support with Events as lessons via JTicketing
Feature #35035: Support for Online and Offline Classroom/ Instructor Led/Scheduled Training via JTicketing integration
Feature #71683: Online Events with Adobe Connect
Feature #36978: Blended Training Calendar - Showing Physical events + Assignments (jLike Assignments)
Even more lesson types
Feature #76383: Link as Lesson
Feature #62881: Joomla Articles as lessons in Shika
Course Assignments and User Goals
Feature #35264: Course Assignment and Goals

Reporting Improvements
Feature #76254: Single Course report in backend
Feature #20502: User Group Filters for the User score report
Certificate Improvements
Feature #45579: Support for Easysocial Fields in the Certificate
Feature #34967: Show total time spent in course on certificate
New Social Integration with Community Builder
Feature #71684: CB - Shika Integration
Improved CPD Support with Ideal time/Certifiable time support
Feature #71679: Ideal time for lesson - core field
Feature #71697: Dashboard widget for total ideal time
Other Improvements
Feature #71676: Open in new tab & course page refresh
Feature #71677: Course checkout UI
Feature #71680: Single Course Menu
Feature #73407: Subscription renewal after expiry.
Feature #62826: +1 Enhancing the Activity Stream for lesson
Feature #71675: Module for courses that shows My Enrolled Courses and any courses from single/multiple categories
Feature #71678: Download lesson source file
Feel free to add comments if you have any questions!
Read more https://techjoomla.com/blog/shika-lms-for-joomla/shika-development-updates-version-1-1-and-up
Details

Category: JConnect News
We are proud the announce the first beta of DOCman 3. This is a major version with loads of new features and improvements. In this release we have focused on laying the groundwork for a more powerful yet easier to use document management experience for your Joomla website.
A few major new features:
Redesigned user interface
We worked hard on a brand new, modern, and responsive user interface that takes advantage of the modern web. The user interface has been a year in the making going through various iterations.
The user interface aims at providing a faster, more usable experience on any kind of device, from small smartphone screens to large monitors. We simplified the layout of all views to make DOCman more self-explanatory and easily discoverable.
Screenshot of the redesigned documents filters.
Frontend category management
Better front end management has been a much requested feature, and we did our best to make it happen. With DOCman 3 you can create, edit, or delete categories from frontend. Users no longer need administrator access to manage their documents and categories!
New uploader
The file uploader has been completely rebuild to make it both more compact and easier to use. No more popup, just a single field to select your files, or drag and drop them. Simple and easy as it should be.
Screenshot of the redesigned uploader.
Improved file management
DOCman now automatically manages and syncs categories and folders for you. Uploaded files are organized per category into distinct folders. You don't ever have to move files around or worry about where to add the new files, just upload a file and let DOCman do the rest!
Automatic document creation
Using FTP, or a shared network drive to upload your files? DOCman 3 can create a document from an uploaded file on the fly.
When a new file is uploaded, DOCman automatically finds which category it should go into based on the folder it's uploaded in and creates the corresponding document for you. Just a little bit of magic.
Significant performance improvements
The new version comes with significant performance improvements that speed up both backend and frontend of DOCman. Moreover, we have added a base caching layer that allows us to make future improvements in later versions.
What next?
We are still working on a number of features for the next beta. Like tags, search, user group management, document ordering, etc.
We would love to get your feedback already, you can download[1] the beta from the support center. Give it a try and let us know!
Read more https://www.joomlatools.com/blog/2016/05/docman-30-beta-is-here/
Details

Category: JConnect News
Summer season is starting and the Dolce Vita Theme arrived on time. This theme features varied block styles, a frame like style, a special bottom position, four custom widgets and many little helpers and modifiers. At first glance it looks like a theme made for fashion but you can add any personal or business related content, too to create your unique website. This theme also features 6 different and fancy styles to start from.
Dolce Vita also supports the latest Widgetkit 2.7 features. In case you've missed it, please check out this blog post[1].
Theme Layout
This theme provides a special option to display a subtly animated frame around the layout. You can decide between a frame that overlays your content and one that "hugs" your content by adding padding around it.
It also comes with a special layout position called bottom-offset, perfect to display banners or small teasers. The dimensions and spacings are calculated automatically according to the size of the published content, so that it always stays centered between the bottom and footer sections.
This time we decided to fully style almost everything in the contrast component .uk-contrast. This means all kinds of UIkit components like alerts, buttons, panels, subnavs, text elements and forms are completely styled. We recommend the class for dark and colored images and for the .uk-block-secondary modifier class/secondary background option in the block appearance section.
Navigation
The main navigation of Dolce Vita Theme supports the latest UIkit sticky navigation component features. You are able to choose from 4 different navigation layouts.
With the special overlay option, the logo will work as a hover trigger for the navigation to display. If you start scrolling down, the navigation will also appear.
Further you can enable a full width dropdown menu container, which will be displayed on top of the content.
Parallax Widget
As you may already have noticed, we've added CSS blend mode effects to the block appearance options of Dolce Vita and Avanti. Now we've added this to the Widgetkit 2 Parallax widget, too. The images can blend into the 2 different background colors!
Slider Widget
This Slider supports CSS scaling for the before and after items. You can choose from different value options in the widget settings. While scrolling through the single items you will experience a liquid like effect. We also have modified the overlay to allow some more flexibility.
Gallery Widget
The Gallery grid provides a pre-defined sequence, which supports first- and last doubled item widths. This sequence is also fully responsive. We took a look at the overlay settings and added new options for blend modes, opacity, color, alignment and a boxed style.
Grid Widget
For Dolce Vita, we have created a modified Grid widget to customize our output, especially the one we can not control at all, like WordPress/Joomla system content. We have added a truncate option for the title and the content, which makes it easier to control the data output and height.
Additions
Dolce Vita includes some additional features, like modifiers and helpers, to customize your content. It supports 3 font types by default to create a very unique look for your personal website. Please view the Theme[2] page for a detailed overview of all included features and specials.
You will soon find answers from our support to your Frequently Asked Questions[3].
Parallax, Slider, Gallery and Grid widgets
Additional framed style
Four navigation layouts
Bottom-offset position
Dotnav follower
Different block appearance settings
Custom blog layout
Demo pages built with Widgetkit 2
Full UIkit components styling
6 pre-built style variations
Easy customizer and LESS integration
WooCommerce support
Read more https://yootheme.com/component/blog/2016/05/02/dolce-vita-theme