Date: Tuesday 26 March 2019
Time: UTC 20:00
Attendees: Nicky Veitch, Jacques Rentzke, ArisNtatsis, Mark Bender
Apologies: Randy Carey
JCM Team Goals:
Ensure technical infrastructure is appropriate for now andfuture
Relaunch the JCM
Increase the number of volunteers in the JCM team
Increase the number of authors
Increase the amount and quality of contributions JCMreceives
Increase readership
For more...
Details

Category: JBlogs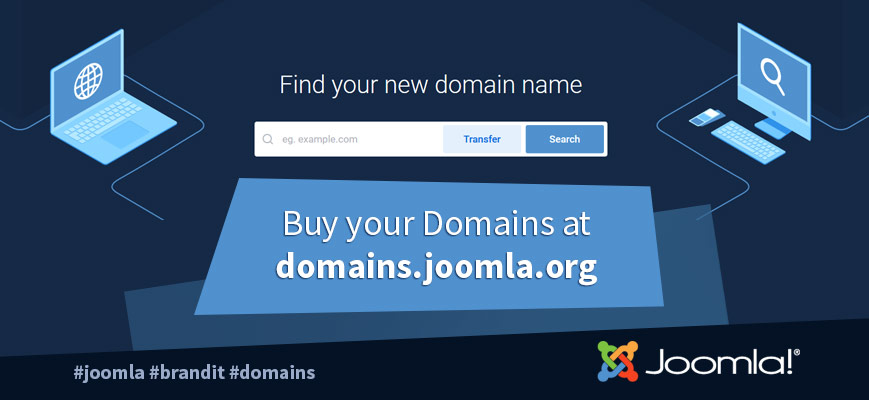 It's an exciting day for The Joomla Project andBRANDIT!
As the consolidation and packaging of web services move forward, weare happy to announce the official launch of our domains platform(powered by BRANDIT), domains.joomla.org....
Read more https://www.joomla.org/announcements/general-news/5763-because-open-source-matters-and-domains-too.html?utm_source=feedburner&utm_medium=feed&utm_campaign=...
Details

Category: JAnnouncements
Spotify, Levi's, BMW and DHL create and send theirnewsletters with CleverReach®. Why? Because it's thatsimple. Do the same with your Joomla! backend! Easily and quicklydesign professional newsletters for your customers with theCleverReach® email marketing software – you don't need anyprogramming skills. Take advantage of the extensive benefits of ourclever integration solution for your Joomla!...
Details

Category: Latest Extensions
Memsource
Memsource is the translation management system for globalcompanies wanting to improve localization efficiency. 400+languages, 50+ file types, 25+ MT engines, REST API, and patentedAI make Memsource the TMS used by many of the world's leadingbrands to reduce costs, automate workflows, and optimize the entiretranslation process. Check out www.memsource.com for moreinformations.
The...
Details

Category: Latest Extensions
Joomla Defer Images plugin (Lazy images).
This plugin makes your images loading when it is needed(LazyImages) or show all images after the whole page loaded(OnLoad).
First, it replaces images with small image as 'data:image'code.
Then, when you load page and scroll, it loads an images which onthe actual screen or load all images after page loaded(OnLoad).
The plugin parameters:
Defer type - Select...
Details

Category: Latest Extensions
Meeting
20th March 2019 6 pm UTC
In attendance:
Hervé Boinnard, George Wilson, Leo Lammerink, Yves Hoppe, SandraDecoux, Harald Leithner, Phil Walton
Unable to make it:
Marc Widmann
Discussion outline
With Joomla 4 on the horizon and a new Production lead in placeits a good time to check what we are doing and see what can beimproved.
Items outlined to discuss
Routine. We need a more rigid...
Details

Category: JBlogs
Joomla VirtueMart AliExpress Dropshipping:
This plugin helps to import the products from AliExpress directlyto your VirtueMart store and start selling those products at yourown store very easily. Admin has the option to update the productprices and other product details after importing the same to thestore. After he/she receives the order of the imported product, heplaces the same order on...
Details

Category: Latest Extensions