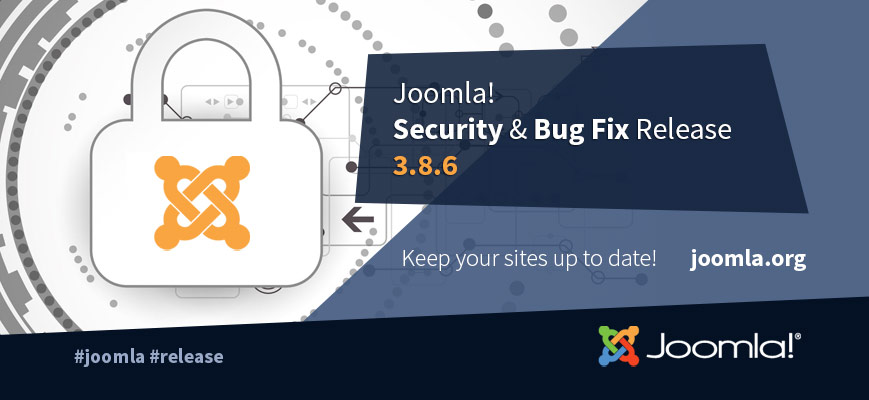 Joomla 3.8.6 is now available. This is a security fix release for the 3.x series of Joomla addressing one security vulnerability and including over 60 bug fixes and improvements.
Read more https://www.joomla.org/announcements/release-news/5725-joomla-3-8-6-release.html?utm_source=feedburner&utm_medium=feed&utm_campaign=Feed%3A+JoomlaAnnouncements+%28Joomla%21+Announcements%29
Details

Category: JAnnouncements
Project: Joomla!
SubProject: CMS
Impact: High
Severity:

Low

Versions: 3.5.0 through 3.8.5
Exploit type: SQLi
Reported Date: 2018-March-08
Fixed Date: 2018-March-12
CVE Number: CVE-2018-8045
Description
The lack of type casting of a variable in SQL statement leads to a SQL injection vulnerability in the User Notes list view
Affected Installs
Joomla! CMS...
Details

Category: Security Announcements
Date: 12 February 2018 - Time: 16:30 UTC
Participants: Roland Dalmulder, Sander Potjer
Apologies: Zaki Abdullah, Kumar Venkatesh, Mihir Chhatre, Yves Hoppe, Embarek Karim
Minutes:
Github Issues
(https://github.com/joomla/volunteers.joomla.org/issues)
Status of issues
Priority are the required GDPR changes for the next two months. This is currently work in progress and...
Details

Category: JBlogs
This plugin aims to improve password security for yoursite'susers by preventing them from using a password that is knowntohave been compromised.
In order to do this, the plugin makes use of the "Have IBeenPwned" API, operated by noted security researcher TroyHunt.
HaveIBeenPwned.com contains an archive of user credentialsthathave been made public after being hacked, and allows anyonetoquery the...
Details

Category: Latest Extensions
The Sticky Navigator Module adds an amazingandextremly customisable vertical Sticky menu toyourwebsite. Ideal to scroll and navigate ononepagesites using the Joomla systemmenu assource or you can use a custom cssselector as asource and Sticky Navigator creates the itemsaccordingly. Usepredefined css themes and extremlycustomise text-and background styles, symbols ( Font Awesome,Google Icons,..)...
Details

Category: Latest Extensions
Allow your users to log in with their social mediaprofile(Facebook, Twitter etc)
Creating an account at a Joomla site is a ratherstrenuousprocess. You have to fill in a form, wait for an email tocome,click on a link which doesn't work on mobile devices, figureouthow to copy it to your browser and only then can you login.Logging in is also problematic: you need to remember theusernameand password...
Details

Category: Latest Extensions
A simple and functional modules to display content fromJoomlaand k2 as a carousel.
- View the contents of Joomla and k2.
- Auto Thumbnail Generator From Images For Best Performance.
- Order article by: title, hits, ID, date, etc.
- Fully responsive.
- Beautiful design.
- RTL Support.
- Autoplay with Duration.
- Easy control over backend.
- Choose Number of Article Displaying.
- Allows You to Adjust the...
Details

Category: Latest Extensions